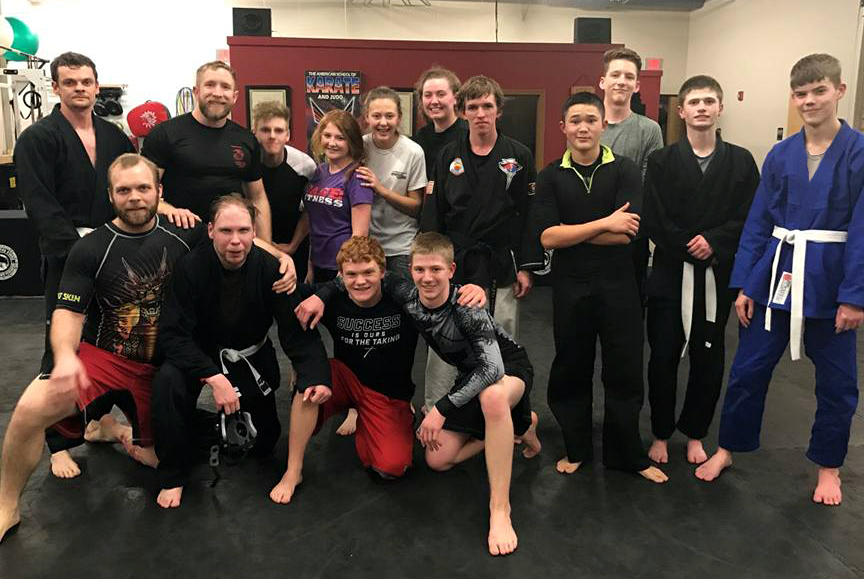 Brazilian Jiu-Jitsu (BJJ) is a martial art that focuses on grappling and ground fighting techniques with the goal of gaining a dominant position over an opponent and forcing them to submit by using joint-locks and choke-holds. BJJ promotes the principle that a smaller, weaker person using leverage and proper technique can successfully defend against a bigger, stronger assailant.
The American School of Karate and Judo offers their BJJ classes 3 days per week. These classes are in one hour blocks and are tailored to men and women 13 years of age and older with goals of personal improvement, self-defense, as well as competition. Students will gain confidence and competence in their grappling skills by: learning to obtain a dominant position to either secure a submission or escape, utilizing leverage to their advantage regardless of physical size, and practicing the Jigaro Kano principle of "maximum efficiency with minimal effort."
Class Schedule
Mon: 6:00-7:00pm & 8:30-9:30pm (gi)
Wed: 6:00-7:00pm & 8:30-9:30pm (no gi)
Sunday:11:00-12:00pm (open roll)
Pricing Information
BJJ classes are offered 3 days per week (with 2 class time options on Mondays and Wednesdays). Participants may attend as many classes as they choose for a flat monthly fee of $75.